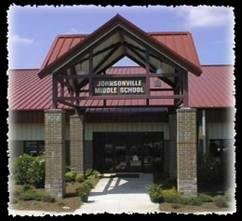 Dear Students and Parents,
As summer continues to wind down, I hope each of you had a restful, safe, and healthy summer. I write this post with great excitement and anticipation. I hope you are as ready as I am to return to teaching and learning at JMS. The last two years brought challenges never before experienced in education. Although we faced many challenges, last year allowed us to grow in many ways in Florence Five. I believe we are about to embark on an amazing school year in which we will take our best "SHOT" at redefining education in Florence Five.
Vince Lombardi once said, "Perfection is not attainable, but if we chase perfection, we can catch excellence." Our vision at JMS is to empower all stakeholders through a constant pursuit of excellence. Our mission is to REACH for EXCELLENCE through a safe and supportive school environment that fosters innovation, exploration, and creativity. This school year will allow us to take our best "SHOT" to REACH for EXCELLENCE through RESPECT, EMPATHY, ACCOUNTABILITY, COLLABORATION, and HAPPINESS.
This school year, we will continue our 1 to 1 computer initiative. Each student and teacher will be provided a laptop for instructional use. Students must take care of their laptop and have it with them when they are in class. We will again be participating in the Community Eligibility Provision (CPE) for this year. All students enrolled at JMS may participate in the breakfast and lunch program at no charge to them and families will not have to fill out a meal application.
Our bell schedule will change slightly. We will move from a 6-period to a 7-period school day, but this will not alter our daily start and dismissal time. The extra period will allow us to continue our R2S period and add an enrichment period for our students. These two periods are very important for our students. The R2S period allows our teachers to provide focused, in-depth, and individualized reading instruction for our students through iReady's digital pathways, close readings, and small group intervention. The enrichment period allows students to continue to focus on reading instruction, while also providing math intervention through iReady's digital pathways and small group intervention with our instructional assistants. We are thankful and excited to be able to offer these intervention/enrichment periods to strengthen our students' reading and math skills, while closing the learning gap caused by the loss of instructional time as a result of COVID quarantines.
As our students return to school, we will continue to follow guidelines that aim to ensure the safety of our students, faculty, and staff. In an effort to keep all of our students and staff safe and healthy, we are asking that no outside lunch be brought in during the school day and please only sign your child out early if it is absolutely necessary. Our security system will remain in place for this year. All entry doors will be locked and you can only be buzzed in through the front door.
I ask for your continued support as we work through the current and after effects of COVID-19. I believe we have the best teachers, staff, and students in the state. If we all continue to work together, we can pursue excellence for all of stakeholders. I would like to encourage each parent/guardian to continue to take an active role in your student's education. Together, we can REACH excellence!
Sincerely,
Brian Goins, Principal