At Johnsonville Middle School, we are in constant pursuit of excellence. In order to work towards this goal each and every day, we have set the following vision, mission, beliefs, and core values for our staff and students.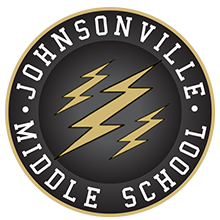 Johnsonville Middle School strives to empower all stakeholders through a constant pursuit of excellence.
​
Johnsonville Middle School's mission is to reach for excellence through a safe and supportive school environment fostering innovation, exploration, and creativity.
All students can learn and deserve the opportunity to maximize their potential to become productive citizens.




All students have a responsible role in their education and deserve to be provided with a variety of instructional approaches to support their learning.

All stakeholders have worth and deserve respect which is fostered through a safe and welcoming school environment.

A school environment consisting of supportive stakeholders and effective communication is essential for a successful educational experience.